Construction Landscaping
Construction landscaping refers to the things in landscapes that get built. These items are the building blocks of your landscape. It basically includes any hard surface landscape such as a patio, driveway, retaining wall, or any other hard surface landscaping made up of hard wearing materials such as stone, concrete etc. Construction landscaping is often used as part of your total landscaping solution alongside soft landscaping, which is grass, bark and other such items which don't include construction.
Construction landscaping items are almost always the most complex, time consuming and expensive for a homeowner to complete on their own. We all know someone how has taken on seemingly simple renovations, only to be well over budget and still unable to enjoy their new outdoor living space through summer! With our Hills District landscaping team, you will be given an assurance and certainty on your planning, budget, and timeframe. A professionally planned construction landscape for your property will give you a lifetime of functional beauty without any unexpected expense and stress.
Block Retaining Walls
External Stair Cases
Concreting (driveways & structures)
Stone & pool paving
External tiling & waterproofing
Residential, Commercial, Industrial
Rooftop Landscaping (craning & design)
Engineered structures
Lighting
Project Management
Stone walls & floors
Insurance claims
Modular walls & fencing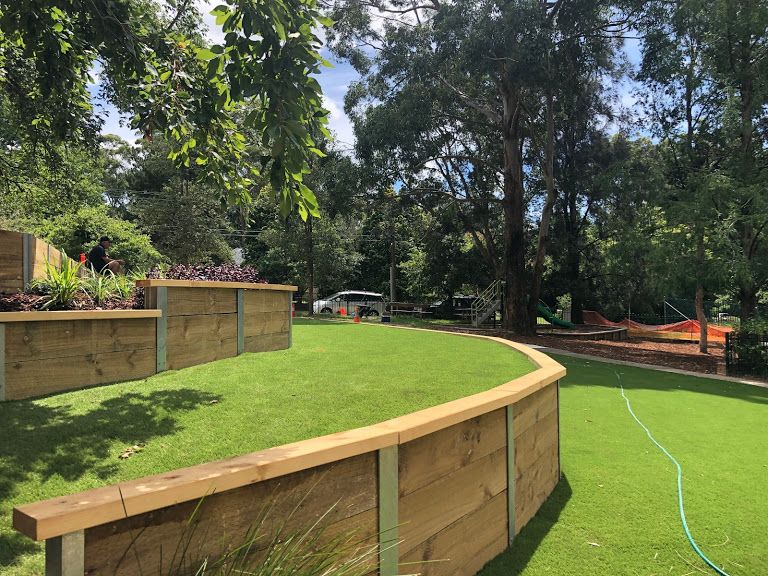 In planning the construction landscaping to suit your needs, wants and space available, it's best to first consider just what you would use that space for: are you looking for a functional area such as for the kids to play, an outdoor entertaining area, or perhaps that perfect poolside setting?
There are a wide variety of materials available, and again this is where an experienced professional can help you plan for that perfect look to last the test of time.
Some construction landscaping materials to consider are: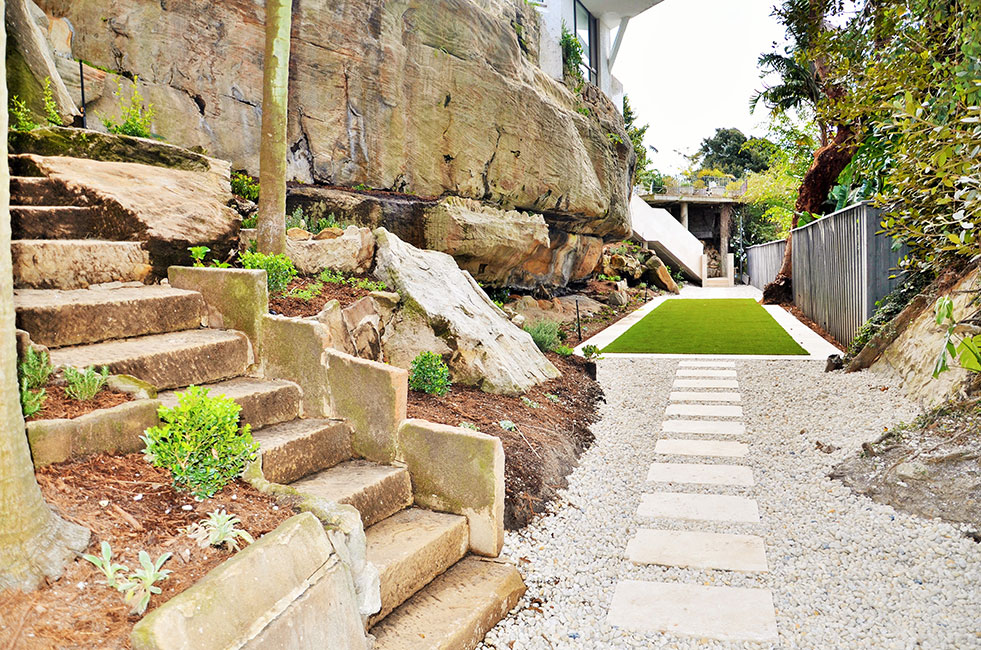 Stone
Natural stone is a beautiful way to make your backyard a true escape. Hard wearing and in a range of colours, stone is perfect for everything from driveways to retaining walls. With varieties to suit all tastes, such as warm sandstone, to the unique and classic look of spectacular travertine, stone is a versatile, cost effective solution. Luke and the team also work with Basalt, Cobblestone, Limestone and Bluestone.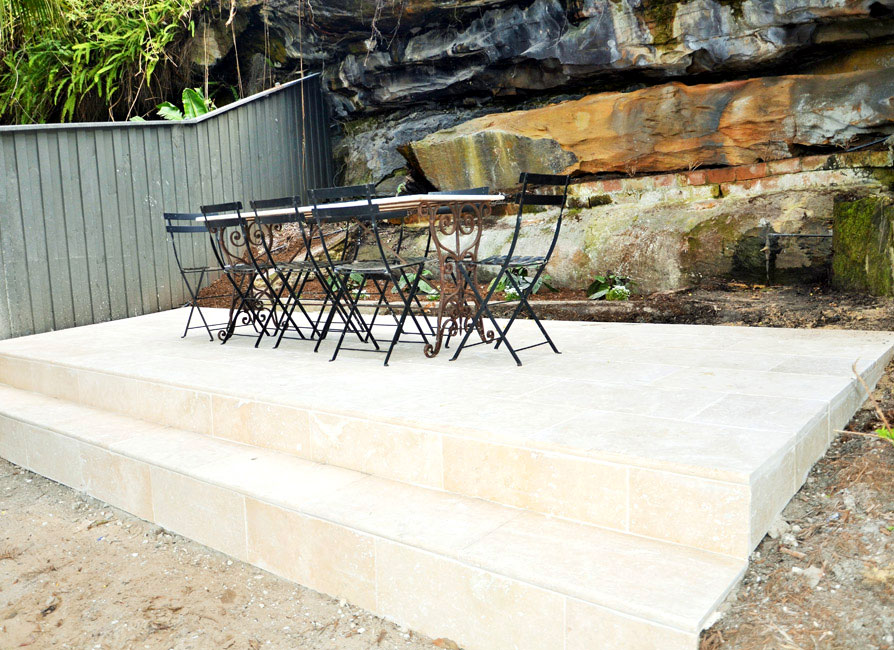 Concrete
Often used as a cheaper alternative to stone. Concrete is also extremely versatile – it can be fashioned into the most convincing stone-substitute slabs and brick-effect pavers. It can be textured in many ways, but as a smooth surface in a modern garden, it is often unbeatable. It can be pre-dyed to any colour to suit any design you might imagine.
Blocks
Bessa or Austral
Stacking blocks are used in constructing Retaining Walls, House Walls & Decorative Structures. Bessa is a cheaper method but need to be rendered and usually over time need maintenance. The concrete stacking blocks are the strongest way in terms of longevity & look. Austral usually have the best choice. There's a lot of choice with blocks so go to a retailer and they will guide you with your choice.
Brick
Brick is a low cost alternative to stone. With its ability to create decorative patterns and a range of materials such as ceramic to clay, brick pavers for driveways and paths are more often used for a vintage European style feel. Brick is not as in vogue as stone these days, as it tends to require more upkeep, it is certainly an option available that suits a particular type of home perfectly.
Decking
Wood surfaces can be very attractive, and are quick to lay. Versatility is another plus; where you need a change of level, it is simple to do it with decking. Choose between strips and made-up square panels. If you prefer a different colour, you can stain them. A vast range of sealants, stains, colours, oils and cleaning products is available for decks.